Located on our ten-acre campus in Winston-Salem, The Park is a space to honor those whose lives have been touched by breast or ovarian cancers.
For patients, survivors, family
Allegacy decided to create The Park after several of our staff members found themselves struggling with breast or ovarian cancer. We wanted to present a tranquil escape for anyone whose life has been touched by these cancers. To that end, we organized community leaders, survivors, support networks and area hospitals to bring The Park to life.
The Park is more than a retreat. It's also a place of celebration, defined by life, hope, faith and courage. The Park is a place to remind others of what's possible.
A sculpture by Earline Heath King, titled "Alive, Beautiful, and Victorious" stands at its heart, with three bronze figures (modeled after cancer survivors Caroline Ebeid, Deborah Howard and Pam Versaggi) demonstrating the strength to be found in the support of others.
Elsewhere in The Park, two water features, called the Ponds of Hope, are connected by a waterfall to remind visitors that hope is a constant thread running through the transitions in their lives.
You might like ...
Here are a few other resources, pages and articles you might enjoy.
Let's be our best, together
When you become an Allegacy member, the benefits aren't just individual. When you invest with us, we invest in arts, education, health and community service organizations throughout the Triad. It brings us joy to help our community thrive. It's also the right thing to do.
Allegacy began supporting Hospice and Palliative Care Centers in our community after we lost someone very special to breast cancer.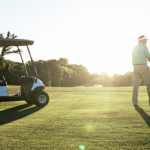 Every year, golfers gather at the Bermuda Run Country Club to enjoy 18 holes of championship golf – while raising funds and awareness to prevent breast and ovarian cancers.