Yadkinville
Financial Center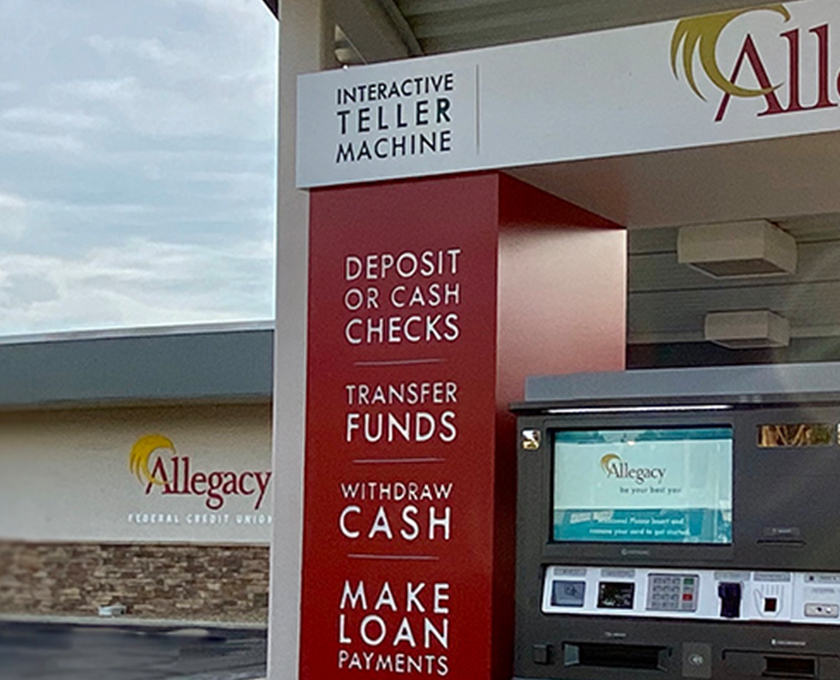 Allegacy's Yadkinville neighborhood team is here to serve you. Meet with a Member Advisor who will assist you throughout your visit guiding you to tools so that you can bank the way you'd like. Instead of a traditional drive thru experience, our Interactive Teller Machine (or ITM) allows you to complete a variety of transactions AND speak with a live teller from the comfort of your car. Register to use Verifast palm authentication technology to access your account without needing your card at an ITM or inside.
Financial Center Hotline: 336.659.2002
Lobby Hours and Appointments Available from 9:00 am – 1:00 pm, 2:00 pm – 5:00 pm. This location is closed 1:00 – 2:00 pm. Drive-Thru Interactive Teller Machine (ITM) open 24/7 with Live Teller Assist available during normal business hours, including Saturday, 9:00 am – 12:00 pm.
Location
912 South State Street
Yadkinville, NC 27055
Lobby Hours
Monday-Friday 9am – 1pm; 2pm – 5pm
This location is closed 1:00pm – 2:00pm.
ITM Hours
Drive-Thru Interactive Teller Machine (ITM) open 24/7 with Live Teller Assist available:
Monday – Friday: 8:00 am – 6:00 pm
Saturday: 9:00 am – 12:00 pm
15k – 17k
Number of steps taken weekly by the team
100%
Hometown Charm + Passion for Volunteering
Closures
New Year's Day — January 2, 2023
M.L.K. Jr. Day — January 16, 2023
President's Day — February 20, 2023
Memorial Day — May 29, 2023
Juneteenth Day — June 19, 2023
Independence Day — July 4, 2023
Labor Day — September 4, 2023
Columbus Day — October 9, 2023
Veterans Day — November 10, 2023
Thanksgiving — November 23 – 24, 2023
Christmas Day — December 25, 2023