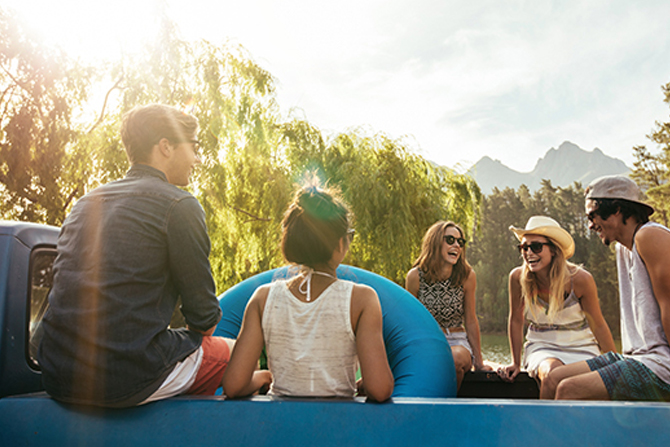 Starting college can be an exciting time, but when you're struggling with how you will pay for your education it can also be stressful. Fortunately, there are options in the form of grants, scholarships and loans, but if you're applying for financial assistance, there can be many hoops to jump through. Here's your simple guide to navigating your way through the paperwork.
To apply for federal aid, you must fill out the Free Application for Federal Student Aid¹, or FAFSA. The deadlines vary by college, so apply early. (most are March 1)

You will need to determine if you qualify to apply as a dependent or as part of a family unit. The FAFSA instructions will help you determine which is appropriate for your scenario.
When filling out the FAFSA, you will need all the financial information-income, tax returns, investments, etc. for yourself and your family (if you're applying as part of a family unit).

As part of the FAFSA, you will choose up to 10 colleges to receive your application results. You also must complete a new FAFSA each year and designate your current college to receive the results.
A few weeks after completing the FAFSA, you will receive a Student Aid Report (SAR) in the mail and results from the colleges you selected. The SAR will tell you what kind of aid – and how much – you can receive.
The colleges you selected on the FAFSA may require you to fill out a CSS Profile, which allows you to apply for non-federal aid. Sometimes you can fill this out up to a year prior to the academic year for which you're requesting aid. There is typically a fee to submit this form, so you may want to narrow down your list of possible colleges before submitting.
Start researching scholarships so your college funding is not fully done by loans. There are many search engines and databases to choose from, such as Scholarships.com and Fastweb.com. Your selected college may have additional school-based opportunities that can usually be found on their website.
Talk to the professionals in the financial aid office at your chosen college. They are sure to have experience in determining the best course of action for someone in your situation.
In addition to the FAFSA, take advantage of all your options, like scholarships, grants, work-studies and on-campus jobs. When it's time to look into loans for any "gaps" in funding, seek those with zero origination or prepayment fees, low interest rates, flexible deferment and repayment options. Verify that the loan is certified through the school – which means the school verifies the amount you need to borrow to prevent you from borrowing too much or too little. Funds should be distributed directly to the school and any difference is paid to the borrower for books, transportation, technology and other necessities.
Allegacy has options to help as well.
The Mel Hughes Scholarship² provides educational assistance to members for post-secondary (undergraduate) education. Four $1,300 scholarships for college/university students and four $250 scholarships for community/technical school students are awarded annually. The applicant must be a full-time student enrolled at least 12 semester hours or a high school senior accepted on a full-time basis, at an accredited post-secondary institution. Applications typically open in the fall and run through early the following year.
We also offer non-federal, private Student Loans³ that are separate from those obtained through your school or FAFSA in case you find yourself with a gap in funding. Contact us today for more information.
¹Federal Student Aid is financial aid from the federal government to help pay for education expenses at an eligible college or career school.  Federal Student Loans are funded by the government which must be repaid with interest.  For more information on Federal Student Aid and Federal Student Loans visit: https://studentaid.ed.gov/ or to complete an application visit: https://fafsa.ed.gov/  FASFA is a registered trademark of the US Department of Education.
²The Mel Hughes Scholarship is provided by the Carolinas Credit Union Foundation Scholarship Program. You must meet all eligibility requirements to be considered for scholarship.
³Allegacy's Student Loan Program is a Private Student Loan and is not affiliated or guaranteed by the federal government. You must meet all eligibility requirements. Loans are subject to credit approval. Rate is variable and based on your credit history and profile and subject to change on August 1st of each year while loan is deferred. Rate becomes fixed for repayment term. Rates, terms and products are subject to change.