Consulting Solutions
leaders drive culture, driving results.
High-performing organizations are defined by strong values, a healthy culture and leadership excellence. Through a collaborative, customized approach we will help you achieve those qualities, develop confident, capable leaders and create a culture of success.
Contact us
Begin the conversation. Talk to us about Consulting Solutions.
Coaching
Maximize potential, build confidence, unlock productivity, enhance performance
Talent Management
Navigate human capital hurdles with strategic workforce planning, succession planning, performance management
Team Development
Foster a climate of mutual trust, respect and shared vision for optimal performance
Organizational Development
Align organizational culture around a common goal for greater efficiency, productivity, and employee satisfaction
Human Resource Consulting
Enhance employee engagement and performance through integrated, human resource solutions
Healthy employees are more productive and engaged at work, create a culture of health today
Leverage untapped potential and skills through professional coaching. Working with a coach can introduce new perspectives, improve creative thinking and decision-making skills, and enhance relationships.
Using 360 feedback and other assessment tools, your coach will empower you to set goals, develop an action plan, and establish a timeline for initiating and sustaining positive change. The typical coaching engagement lasts between six and 12 months.
It's essential to motivate top talent and develop a strong leadership pipeline. Drawing from your organization's mission, vision and values, we'll work with you to create a customized talent management strategy that retains high performers, develops future leaders and increases employee engagement.
Allegacy Consulting delivers holistic, customized solutions for Strategic Workforce Planning, Succession Planning, High Potential Development, and Performance Management.
A cohesive, high-performing team gives your organization a competitive advantage. Allegacy can help you create an organizational culture based on mutual trust, respect and commitment, so your team members can work together effectively, resolve conflict and align with a shared vision.
Our solutions are customized to meet the unique needs of your team whether it is in the formation, assimilation, or alignment stage.
Cultural alignment is essential for success whether you're rebranding, merging two organizations, or assimilating new leaders. We can help you assess your current culture and develop a strategy to ensure it is fully realized in your overall operations.
Employees who rally around a common goal are more efficient, productive, and satisfied leading to greater organizational effectiveness.
Whether your organization is looking for a full outsourcing of the human resource function or you need some targeted assistance, Allegacy provides a comprehensive range of HR Consulting services.
Our seasoned HR consultants can help you create an employee handbook, develop a selection and recruitment strategy, provide input on your HR policies and procedures, or establish a performance management system.
What others are saying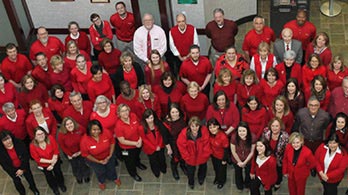 Manny M.
North Carolina member
By far better than any bank I've ever been with. Don't have to worry about all those fees and requirements. Hassle free banking.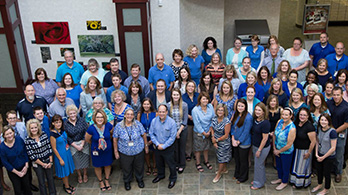 I have been an Allegacy member for a few years now. Overall, this has been a great experience. Their staff is very customer service oriented. There was a potential issue just before closing on our house, and one of the branch managers helped us work through the issue, personally seeing it through.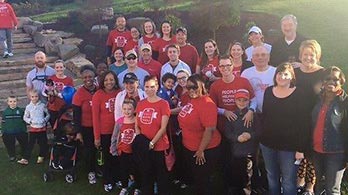 Patty S.
North Carolina member
It's the finest CU I've used in my many years, very knowledgeable cashiers, managers and loan professionals.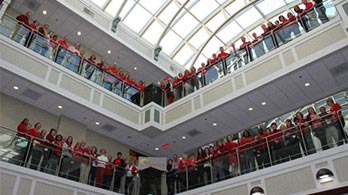 Kathy W.
North Carolina member
I have been a member with the Allegacy back when it was Reynolds Credit Union. Excellent service in the CU. Excellent service on the phone. Excellent app for my phone. Web site very user friendly. I highly recommend Allegacy FCU.
Great tellers with excellent customer service skills. Been using for over 10 plus years. Keep it up ladies and gents you rock.
Very nice bank, staff is always ready to help with whatever you need.
Contact us
Begin the conversation. Talk to us about consulting solutions.
You might like ...
Here are a few other resources, pages and articles you might enjoy.
Let's be our best, together
When you become an Allegacy member, the benefits aren't just individual. When you invest with us, we invest in arts, education, health and community service organizations throughout the Triad. It brings us joy to help our community thrive. It's also the right thing to do.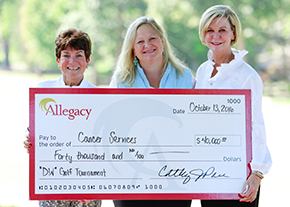 Every year, golfers gather at the Bermuda Run Country Club to enjoy 18 holes of championship golf – while raising funds and awareness to prevent breast and ovarian cancers.
For nearly 20 years, Allegacy has been committed to efforts to eradicate breast and ovarian cancers.
Disclosures
Consulting Solutions are offered by Allegacy Services, LLC, a credit union service organization, wholly owned by Allegacy Federal Credit Union.