Community Wellbeing Impact Report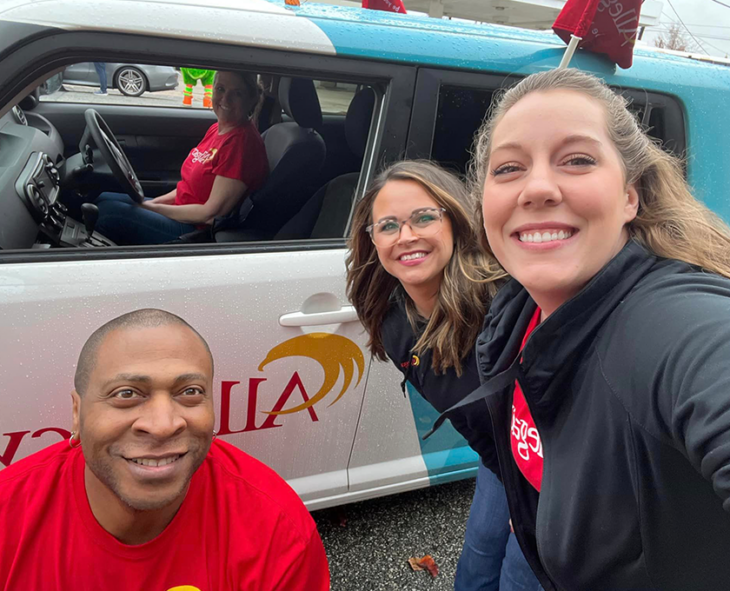 Celebrating 55 Years of Growth & Giving Back
At Allegacy, we embrace "doing right" moments and enjoy reflecting upon the shared successes and impactful moments of the year.  In 2022, we had much to celebrate as we honored our past 55 years by growing, giving back and continuing to help our members reach their goals.
The Allegacy team spent

5200

hours volunteering and providing financial education

Helped members work towards reducing debt by

$22K+

Allegacy contributed

$560K+

to non-profit organizations, schools and chambers of commerce within our communities
Allegacy has paid back

$2.9M+

in dividends to members with checking and savings accounts

Allegacy helped

958

families move into the home of their dreams or save money on their current one through refinancing

The Financial Planning team created

223

financial plans for retirement, family growth and other life transition preparation
Allegacy funded

4900+

goals through loans for everything from new rides to higher education to orthodontics

Allegacy Benefit Solutions saved its customers

$1M+

in costs to their health insurance and related benefits costs

Allegacy funded nearly

$120M

in business loans to our local communities
Commitment to digital-first
Security and convenience are more important than ever when it comes to your finances.  That's why we continue to find new innovative ways to serve you and fine-tune our existing processes, like adding more ITMs to drive-thrus and celebrating a 24/7 member resource.  This year marks one year with our AI-powered digital chat assistant, Welby! Over 38,000 times members were able to get answers to the most common questions, saving both time and money.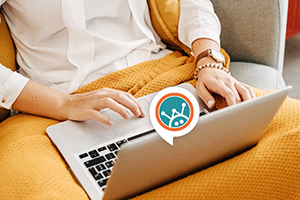 Allegacy members made

168K+

check deposits using their smartphone camera and our Mobile App

Allegacy members completed

305K+

transactions on our Interactive Teller Machines (ITMs)

Allegacy members completed

51K+

smiling live teller assists via ITM video
Annual Golf Tournament a huge success
The most recent DW "Don't Wait" Annual Golf Tournament raised $95,000, bringing Allegacy's total contribution to Cancer Services, Inc. to over $1.3 million throughout its 23-year partnership. Proceeds benefit cancer survivors directly, providing financial assistance, medical supplies, special programs, advocacy and more at no cost to the patient. The funds also benefit those in our community who want to know about cancer prevention and techniques for early detection.
Join us for this year's tournament
Or show your support with a donation
Reinvested nearly 5% of our net income
These dollars supported our communities through charitable contributions, sponsorships and foundation gifts among our philanthropic priorities: food insecurity, education and health + wellbeing.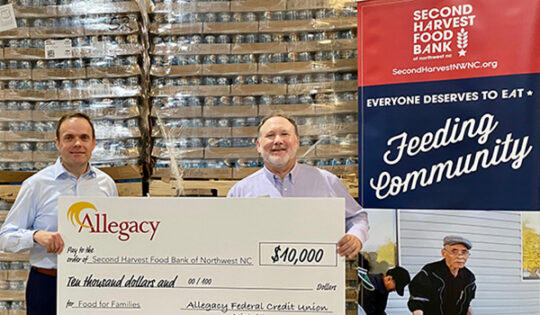 Presenting Sponsor of SummerLark 2022
Allegacy helped Atrium Health Wake Forest Baptist raise an additional $65,000 to fund the Cancer Patient Support Program, bringing our total contribution to $310,000 (and counting)!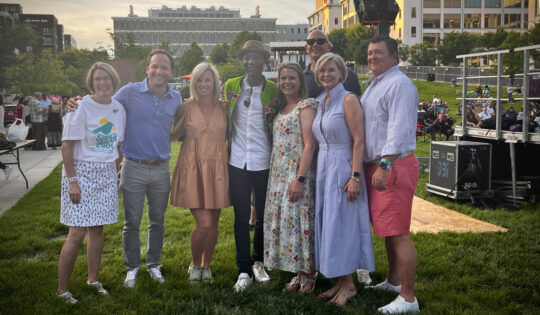 Presenting Sponsor of Fun Fourth + Downtown in December 2022
For the last 5 years, Allegacy has been the presenting sponsor for DGI's Fun Fourth and Downtown in December.  Twice a year, thousands of individuals and families flock to Greensboro to enjoy fellowship, fun and festivities.  Our support helps to strengthen economic development and showcase Greensboro as a prosperous and vibrant urban center.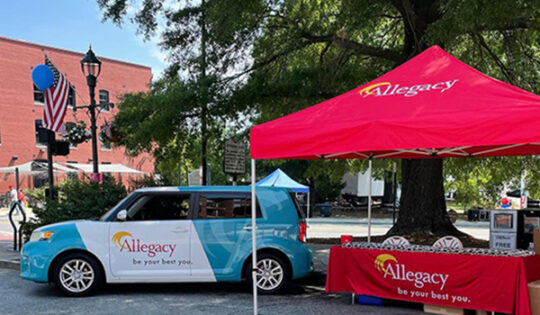 Gave back to the community
Logging over 2,100 volunteer hours, which translates to an economic impact of nearly $63,000.¹
Disaster Relief + Hunger
Supported disaster relief efforts related to the Pilot Mountain and Weaver Fertilizer Plant fires, hurricanes in the southern U.S., and Ukrainian credit unions displaced by war. Helped community partners like Second Harvest Food Bank, Care to Share Food Pantry, and Child Nutrition Program feed the hungry.
Community Engagement
Engaged employees and members in on-going Community Development efforts like Clemmons Community Day, the Heart & Stroke Walk, Mt. Airy's Autumn Leaves Festival, Greensboro's Fun Fourth Celebration, the Walk to End Alzheimer's, street cleaning, Cover the City blanket drive, and the Salvation Army's Angel Trees.
Celebrated Diversity
Celebrated the rich diversity within our community by supporting Winston-Salem's Juneteenth celebration, the REACH Women's Conference, the Hispanic League's Fiesta, Winston-Salem State University, Pride events across the Triad, Veterans Helping Veterans golf tournament, and the Black Philanthropy Initiative, among others.