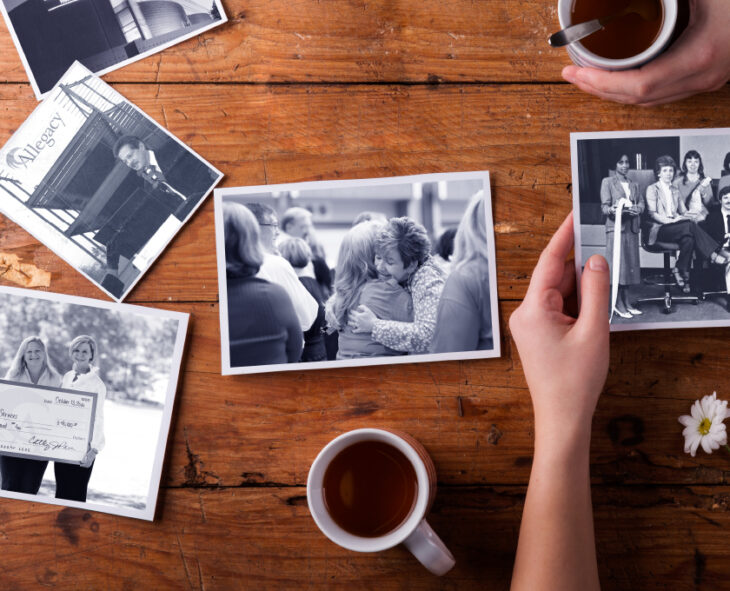 Allegacy began in 1967 and grew steadily, prioritizing our members' best interest at every step. Today, we're one of the largest, most financially-sound institutions in North Carolina. Follow our journey from then to now.
1967 – Reynolds Carolina Credit Union was created. Formed to provide systematic savings and low-cost loans for RJR employees. T.S. "Steve" Elam, President. N Church Street Branch Opens.
1971 – Computerized Core System is Implemented
1972 – Whitaker Park Branch Opens
1975 – Ike Keener is hired, he would later become President & CEO (in 1997)
1977 – World Headquarters Building Branch Opens and 5th Street Branch Opens
1979 – Ellen Padgett Lee becomes President. RCCU gets a new logo.
1980 – We offer our first home improvement loans.
1981 – C. Melvin Hughes becomes President.
1982 – Plaza Building branch opens.
1984 – We issue ID cards for member protection.
1986 – Whitaker Park Building is built. The Tobaccoville branch opens. We start offering home equity loans.
1988 – We start offering mortgages services.
1989 – We roll out our very first ATMs. We offer membership to family.
1990 – Our members can get credit cards. We introduce personal agency accounts.
1991 – The CarFacts Auto Advisory Center is founded.
1992 – Reynolds Carolina Credit Union becomes federally chartered, is now RCFCU. The New Jersey branch opens. We merge with Nabisco Brands Employees FCU. We offer our first certificates of deposit.
1993 – We introduce checking accounts.
1994 – We open our doors to Select Employee Groups (SEGs), organizations that offer credit union membership to their employees. We make Debit Cards available.
1995 – The Hanes Mall branch opens.
1997 – W.K. "Ike" Keener, Jr. is President + CEO. We began offering financial planning services. We launch our first website + WebBanking. Our new call center opens. Our first employee, Jean Hill, retires after 30 years of service. We award the first Allegacy Scholarships.
1998 – We merge with Carolina MediCredit CU. Our chairman, Ann A. Johnston, is "Person of the Year."
1999 – We redesign our website. Our future CEO, Cathy J. Pace, is "Marketer of the Year."
2001 – Name change: RCFCU is now Allegacy. "The name is a combination of allegiance and legacy," said CEO Ike Kenner. It expresses our heritage + our relationships with the communities we serve. The North Patterson branch opens. We begin offering auto-buying services.
2002 – The Westbrook branch opens. We open the Allegacy Village branch.
2003 – The Whitaker Square branch opens.
2004 – We became the third credit union in North Carolina (after SECU and CFCU) to surpass $1 billion in total assets. We begin offering commercial services.
2006 – We define our brand. We introduce payroll services. We acquire JBA Benefits.
2007 – We redefine our mission. Advanced Fraud Solutions is formed.
2008 – We launch NC's first student-run branch. The North Patterson branch is expanded. We undergo a core system conversion. We win the Keystone "Integration" Award.
2009 – We roll out educational workshops.
2010 – Our employee wellness program rolls out. Disaster Recovery Infrastructure Built. Website Gets Redesigned.
2011 – First TV Spots Air. Lifestyle Loan Introduced. Mobile Banking App Offered. We win the Outstanding Philanthropic Non-Profit Corporation Award.
2012 – Teller No. 1, Jeanette, Retires After 43 years. Wake Forest Biotech Place, Mocksville and Davidson Branches Open. I-R Employees' Federal Credit Union Merger. Health Savings Accounts Offered. Voted Triad's Healthiest Employer "Best in Class", voted a Top Workplace in the Triad and won "Best Practice" Awards For Wellness & Lending by Credit Union Journal. Our future EVP/Chief Operations and Digital Officer, Ashley Kohlrus, is named CUES Next Top Credit Union Executive. Provided nearly 16,000 meals to children through the Bag Childhood Hunger food drive.
2013 – Cathy Pace became President and CEO. Peace Haven Branch Opens. Mobile Deposit Capability Introduced. The Center for Smart Financial Choices Opens. Voted Healthiest Employer in the Triad.
2014 – Kennedy SRCU Branch Opens. Stafford Village Branch Opens. Mobile Site Launches. Selected as one of America's Top 100 Healthiest Workplaces. Hosted First Annual Making Strides for Financial Fitness, a Retro Run.
2015 – King Branch Opens. Battleground Branch Opens. AllHealth Wellness Savings Account Introduced. Apple Pay Offered. EMV / Chip Card Introduced.
2016 – Brand Articulation: Be your best you. Evolution to a Brand Culture.
2017 – Website Gets Redesigned.
Celebrate what's good.
With humble roots in Winston-Salem and as one of the top performing credit unions in North Carolina, we know what a little hard work can do. We enjoy reflecting upon the shared successes and impactful moments in our history and continue to embrace "doing right" moments every day.
Looking Forward
No one can be certain what the future will hold. But as Allegacy continues to do the right thing, focusing our members' wellbeing and work to build healthy, vibrant community we hope you'll join us.
Member Perks
We have discounts for you on food, theme parks and more.
Share This
Tell friends and family about the great benefits at Allegacy.