Interactive Teller Machines
Interact with a live teller from the comfort of your car.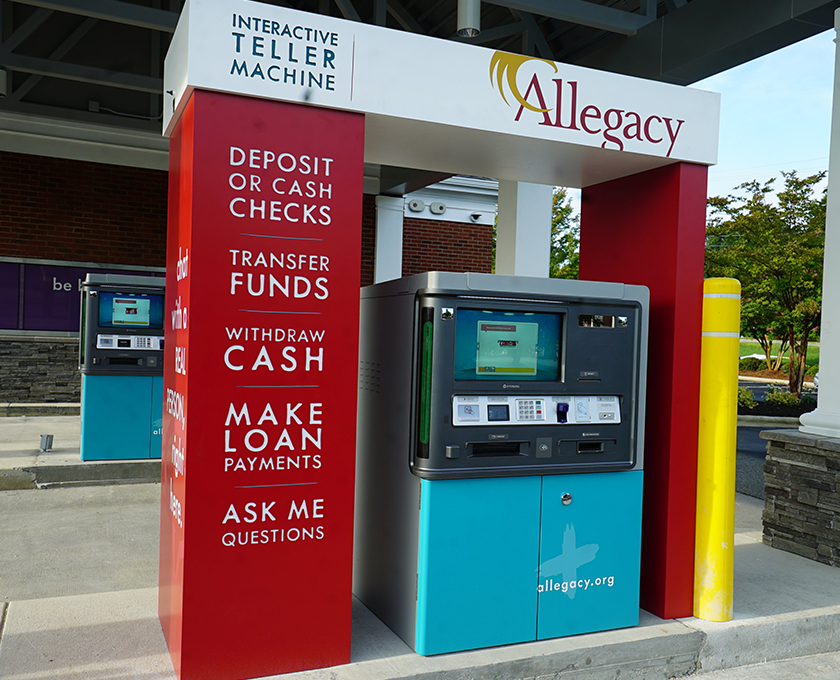 Interactive Teller Machines (ITMs) allow you to complete a variety of transactions AND interact with a live teller — a Member Service Representative you might even recognize — from the comfort of your car. When you're ready, simply touch the screen. You can deposit or cash checks, make a cash deposit, make an Allegacy loan payment, transfer funds, or withdraw cash.
If you need assistance, simply click the "Help" button and a person will assist you by answering any questions you may have.
Hours
Our Interactive Teller Machines are available for transactions 24/7.
LIVE Member Service Representatives are ready to serve you:
8:00 am – 6:00 pm, Monday through Friday
9:00 am – 12:00 pm on Saturdays, excluding holidays.
Battleground
3314 Battleground Avenue,
Greensboro, NC
Bermuda Run
128 Yadkin Valley Road,
Bermuda Run, NC
Clemmons Allegacy Village
6320 Allegacy Way,
Clemmons, NC
Palladium
3015 East River Way,
High Point, NC
Peace Haven
1910 Peace Haven Road,
Winston-Salem, NC
Prosperity Church Road
3021 Prosperity Church Rd,
Charlotte, NC
Queens Road
100 Queens Road,
Charlotte, NC
Wake Forest BioTech
680 Vine Street,
Winston-Salem, NC
Westbrook
1691 Westbrook Plaza Drive,
Winston-Salem, NC
Yadkinville
912 South State Street,
Yadkinville, NC
Closures
New Year's Day — January 2, 2023
M.L.K. Jr. Day — January 16, 2023
President's Day — February 20, 2023
Memorial Day — May 29, 2023
Juneteenth Day — June 19, 2023
Independence Day — July 4, 2023
Labor Day — September 4, 2023
Columbus Day — October 9, 2023
Veterans Day — November 10, 2023
Thanksgiving — November 23 – 24, 2023
Christmas Day — December 25, 2023