Wellness Solutions
care for everything that matters.
At Allegacy we lead by example: our employee wellness program has been awarded for its excellence and innovation. Our commitment to doing the right thing for your wellbeing goes right to the heart of who we are, encompassing social, physical, emotional and financial wellness as well a strong sense of purpose. Allow us to share our expertise and help you develop a successful wellness initiative for your workplace.
Contact us
Begin the conversation. Talk to us about wellness solutions.
Employee Benefits
A successful wellness program positions your employees to reap long-term health benefits
Business Advantages
Healthy employees are more productive and engaged at work
Small + medium employers can tap into resources to begin creating a culture of health
What others are saying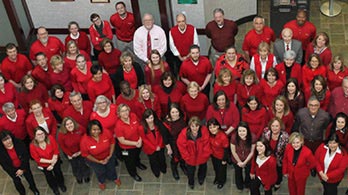 Manny M.
North Carolina member
By far better than any bank I've ever been with. Don't have to worry about all those fees and requirements. Hassle free banking.
I have been an Allegacy member for a few years now. Overall, this has been a great experience. Their staff is very customer service oriented. There was a potential issue just before closing on our house, and one of the branch managers helped us work through the issue, personally seeing it through.
Patty S.
North Carolina member
It's the finest CU I've used in my many years, very knowledgeable cashiers, managers and loan professionals.
Kathy W.
North Carolina member
I have been a member with the Allegacy back when it was Reynolds Credit Union. Excellent service in the CU. Excellent service on the phone. Excellent app for my phone. Web site very user friendly. I highly recommend Allegacy FCU.
Great tellers with excellent customer service skills. Been using for over 10 plus years. Keep it up ladies and gents you rock.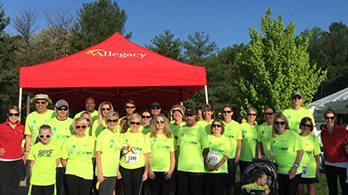 Very nice bank, staff is always ready to help with whatever you need.
Find out more
Learn more about wellness solutions today.
You might like ...
Here are a few other resources, pages and articles you might enjoy.
Let's be our best, together
When you become an Allegacy member, the benefits aren't just individual. When you invest with us, we invest in arts, education, health and community service organizations throughout the Triad. It brings us joy to help our community thrive. It's also the right thing to do.
Allegacy is a proud co-sponsor of Komen Race for the Cure, participating through corporate sponsorship and also joining the race with our employees, friends and family members.
Every year, golfers gather at the Bermuda Run Country Club to enjoy 18 holes of championship golf – while raising funds and awareness to prevent breast and ovarian cancers.
Disclosures
Wellness Solutions are offered by Consulting Solutions, which are offered by Allegacy Services LLC., a credit union service organization, wholly owned by Allegacy Federal Credit Union.