Indian Trail
Financial Center - Now Open!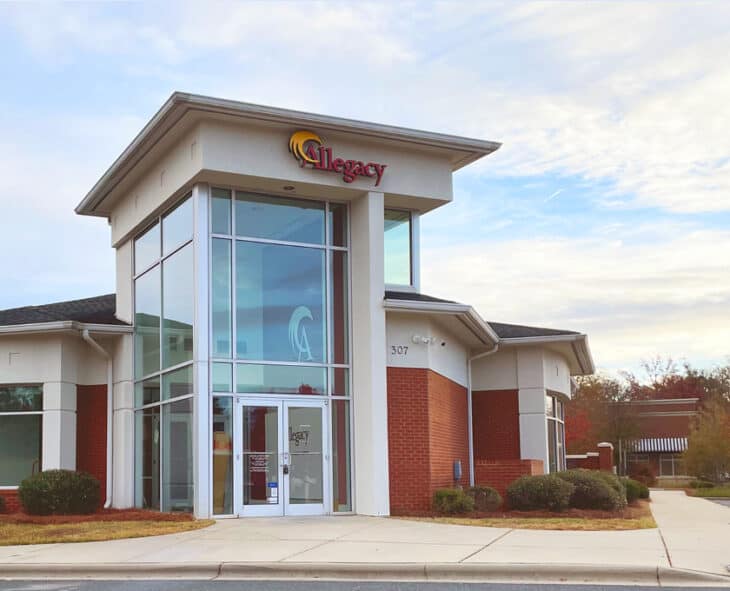 We offer a full suite of services and financial experts to advise on your goals for personal and business needs. Drive-thru Interactive Teller Machines (ITMs) at this location allow 24/7 self-service transactions.
---
Special Offers
Warm up to Allegacy with these special offers! Available for a limited-time, exclusively at our Indian Trail Financial Center beginning December 4, 2023. Stop by or call to schedule an appointment at your convenience.
*APY= Annual Percentage Yield. The APY is 5.75% with a dividend rate of 5.591%. New money only. $100K max per member. Rates are available as of 12.4.23 and are subject to change without notice. Early termination fees may apply. Certificate Special is available on consumer, business and IRA accounts. Limited time offer. Product can only be opened in the Indian Trail Financial Center. Early withdrawal penalty may apply, fees may affect earnings.
Membership eligibility required.
**APR=Annual Percentage Rate. Rates are variable and following the introductory period, based on as low as
Prime Rate minus 0.25%. The maximum rate is 18.00% and the lowest rate could never be below the floor of 4.00%. Rate is also affected by your credit history and profile and, like terms, are subject to change without notice. Loans are subject to credit and property approval. Appraisals are required on loan amounts of $100,000 or greater. There is no annual fee or prepayment penalty fee. Homeowner's insurance and, if applicable, flood insurance is required. Interest may be tax deductible; consult tax advisor for details.
Membership eligibility required.
Financial Center Hotline: 800.782.4670
This location is now open!
Lobby Hours and Appointments are available during business hours as listed. Drive-Thru Interactive Teller Machine (ITM) is open 24/7 with Live Teller Assist available during normal business hours, including Saturday, 9:00 am – 12:00 pm.
Location
307 Unionville Indian Trail Road
Indian Trail, NC 28079
Lobby Hours
Monday -Thursday: 9:00 am – 5:00 pm
Friday: 9:00 am – 6:00 pm
ITM Hours
Drive-Thru Interactive Teller Machine (ITM) open 24/7 with Live Teller Assist available during normal business hours, including Saturday, 9:00 am – 12:00 pm
Monday – Friday: 8:00 am – 6:00 pm
Saturday: 9:00 am – 12:00 pm
Closures
New Year's Day — January 2, 2023
M.L.K. Jr. Day — January 16, 2023
President's Day — February 20, 2023
Memorial Day — May 29, 2023
Juneteenth Day — June 19, 2023
Independence Day — July 4, 2023
Labor Day — September 4, 2023
Columbus Day — October 9, 2023
Veterans Day — November 10, 2023
Thanksgiving — November 23 – 24, 2023
Christmas Day — December 25, 2023