First-Time Homebuyer
Find your happy place.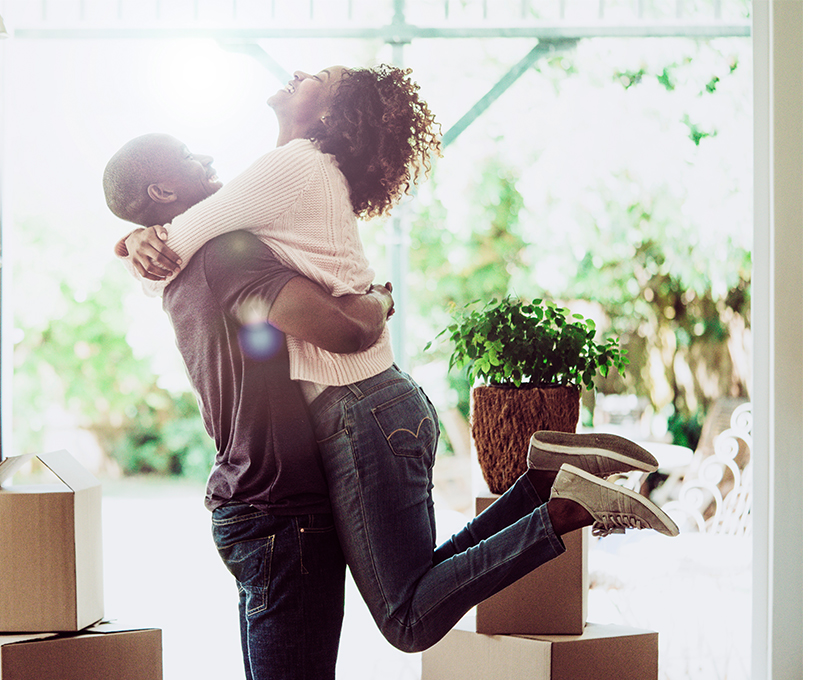 Let's get started.
We'll help make the homebuying process less daunting and more affordable, with our local team of mortgage advisors right by your side.
Why get a mortgage with Allegacy?
We know that buying a home — especially for the first time — can be intimidating. But it can also be a great investment, since most homes increase in value over the years and give you tax benefits. And, with competitive rates and lower fees, Allegacy's mortgages are easy to live with!
You don't have to go through it alone. We're here to guide you toward greater savings and smarter choices that will ensure many happy years at any address.
With free homebuyer workshops to teach you about the journey, tools to help you find the right financing and free home evaluation worksheets, Allegacy can help you find your happy place.
Get the free evaluation worksheets »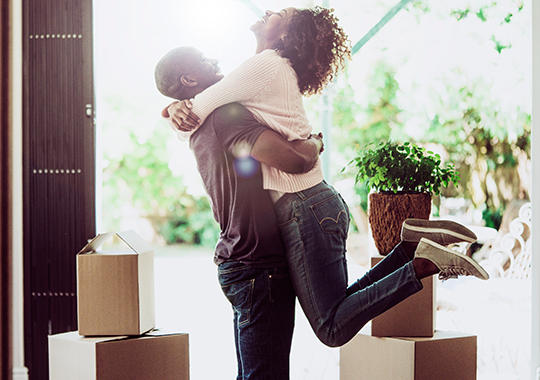 The Homebuying Process
Four steps closer to your dream home.
Choose a Lender
When choosing a lender, consider how accessible the Loan Officer is: are they willing to meet online or face-to-face and available to answer questions throughout the process? Are lending decisions made locally? Do they service their loans after the loan closes? All very important questions — and at Allegacy, the answer is YES to all of the above!
Get Credit-Approved + Shop
Close + Move In
You can log in to your Allegacy account and even check the status of your loan or view messages. Once you close on your dream home, throw the housewarming party you deserve and share your new happy place with friends.
How Much Mortgage Might You Qualify For?
Most lenders base their home loan qualification on a number of different variables. Our mortgage qualifier calculator makes it easy for you to get an estimate of what's in your range.
Mortgage options
Which of the following options apply to you? Select all that apply.
Take advantage of every opportunity.
If you're looking to buy a home in North Carolina and you meet income requirements, you may be eligible to apply for the North Carolina Home Advantage Program. Borrow up to 97% of the purchase price on your primary
residence, with just 3% down.
Apply Now
Apply now and see if you qualify for the North Carolina Home Advantage Program.
What others are saying ...
Jennifer and Jessica were great to work with.

Raquel H.

— Clemmons, NC
Frequently Asked Questions
Not sure what an escrow account is (or how to pronounce it)? You're not alone! Mortgage terminology can be confusing, especially for first-time homebuyers. Get savvy by checking out these frequently asked questions.
Mortgage terminology can be confusing, here's a list of some common terms to keep in mind:
CLOSING COSTS
The costs you'll pay at the time of purchase. These include things like the origination fee (usually 1% of your loan amount), commitment fee, appraisal fee, attorney fee, title insurance, homeowners insurance, recording fees, flood certification fee, etc.
DOWN PAYMENT
The amount of the purchase price that you're paying up-front. Typically, lenders require a specific down payment in order to qualify for the mortgage.
PREPAYMENT
Making early or extra payments towards the principal. Prepayment can shorten the length of your mortgage and lower the total amount of interest you pay over time.
PRINCIPAL
The amount of money that you borrow for your mortgage.
EQUITY
The difference between the value of your home and what you still owe on your mortgage loan.
HOMEOWNER'S INSURANCE
AKA "hazard" insurance. Before you close on your mortgage, you will need to purchase a one year homeowner's insurance policy with the minimum dwelling coverage of your loan amount.
LOAN TO VALUE
The percentage of your loan amount divided by your purchase price or appraised value, whichever is the lesser amount. Example: $150,000 loan amount divided by $175,000 purchase price/appraised value = 86% Loan-to-Value (LTV)
PRIVATE MORTGAGE INSURANCE
Insurance that protects the lender if you stop making payments on your loan. Required for loans with less than 20% down payment and the premium is paid in your escrowed portion of your monthly payment.
ESCROW PORTION OF YOUR PAYMENT
The monthly amount that is equivalent to 1/12th of your annual property tax bill and 1/12th of your homeowners insurance premium that is added to the principal and interest portion of your payment. If you borrow more than 80% of your home's value/purchase price, you'll be required to pay a monthly premium for Private Mortgage Insurance (PMI) in your escrow payment. Luckily, Credit Union PMI rates are significantly lower than other mortgage providers!
ORIGINATION FEE
The origination fee for a mortgage loan is part of the closing costs to be paid by the Buyer and is typically 1% of the loan amount. Origination fees are usually broken down into mortgage points, which are expressed as a percentage of the loan amount. So if the loan amount is $100,000 and theres a $1,000 origination fee, you are paying a 1% origination fee/point.
Credit approval is an application for financing that helps determine which homes are in your price range. To get credit approved, you provide the same paperwork you would when making a formal loan request. The Loan Officer will ask you for employment and income verification and deposit and loan information. They will also pull a credit report to assess your credit history.
Credit approval assures your application is approved for a loan, but is not a mortgage contract.
Your Loan Officer will use the financial information you provide to estimate the max mortgage you should aim for. Typically, your monthly house payment should be around 28 percent of your total gross monthly income. Your total monthly debt, including your estimated house payment and other monthly debts, should not be more than 36 percent of your gross monthly income.
Of course, these figures vary between lenders and loan products. How much you can afford also depends on the interest rates and your down payment at the time of purchase. To get an idea of what you can afford, talk to a Loan Officer today. We'll work with you to find a solution that fits your lifestyle.
Purchasing a home is the biggest single purchase most people make. North Carolina has a program called NC Home Advantage for first-time and move-up homebuyers in North Carolina. The program not only offers qualified borrowers affordable fixed-rate mortgages, it also offers down payment assistance.
If you're a first-time homebuyer or a military veteran who meets eligibility criteria, you may also be qualified for up to $15,000 down payment assistance and the opportunity to combine your NC Home Advantage Mortgage with the NC Home Advantage Tax Credit. The tax credit could save you up to $2,000 per year in Federal taxes; however, it cannot be combined with the NC 1st Home Advantage Down Payment. Contact one of our Loan Officers to learn more about the program!
Homes aren't one-size-fits-all. Neither are home loans. At Allegacy, we begin by evaluating the big picture before offering a personal solution designed to fit your lifestyle. Once your offer has been accepted by the sellers and signed by all parties (Buyers, Sellers, and all Agents) your Loan Officer will need the fully executed Purchase Agreement as quickly as possible so that the process can begin.
Here are some of the items each applicant will be asked to provide to Allegacy:
You must be a member
Funds to cover the appraisal fee
Driver's license and social security cards
Most recent pay stubs (covering at least one month of pay)
Two years proof of income

If employed, last two year's W-2 statements
If self-employed, last two year's tax returns with all schedules
If disability income, last two months of statements showing deposit

Last two month's bank statements for any deposit/loan accounts not at Allegacy
Most recent 401(K) statement
Written explanation for any adverse credit
If home is in a community with restrictive covenants or by-laws, we will need a copy as well as contact information for the Home Owner's Association
If separated or divorced, a recorded copy of your separation/divorce settlement
Start the loan. Once agreed-upon terms have been presented to the seller and your offer has been accepted, it's time to contact your lender to start gathering the information required to finalize the purchase.
Find an inspector. Though not required, having a home inspection is a good idea. The inspector will examine the home and note any items of concern that could affect the value of the property. If there are any red flags, you have the option of asking the seller to take care of it or making the repair yourself. Your realtor and your lender can help you find a good inspector.
Appraisal. Your lender will request a licensed appraiser to visit the property and assess a value based on the recent sales of similar properties to determine the market value of the property.
Loan approval. Once the appraisal and loan documents have been reviewed by an underwriter, it's time to schedule your loan closing with an attorney.
Loan closing. At the loan closing, your attorney will have you sign many documents. These documents will transfer ownership of the property to you. You will also sign the loan documents and pay the amount that isn't covered by the loan proceeds. Your lender will let you know what this amount will be during the loan process.
Still have questions? Reach out to a Loan Officer today. We're here to help.
Calculators to help you choose the right mortgage for you.
Get Started
Our goal at Allegacy is to help you take control of your finances while reaching your personal goals. If you want to make your housing dollars go further, there's no better place to start than Allegacy. We're ready to help you find the right home, so you can continue to thrive — and make new memories — for years to come.