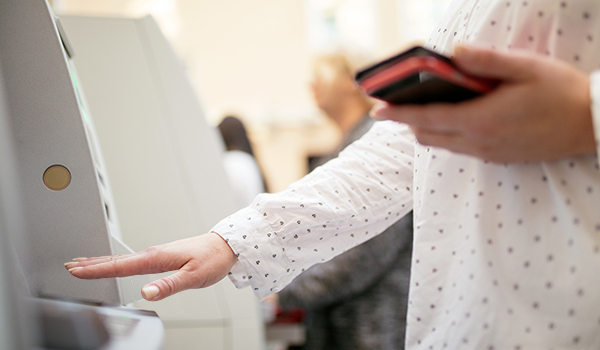 You use your thumb to unlock your phone. Your face logs you into your laptop. So why do you still rely on a card to access your accounts?
With the introduction of Verifast™ Palm Authentication, Allegacy was the first credit union in the southeastern U.S. to offer its Members the latest biometric technology to help keep them secure physically, digitally and financially.
How It Works
Verifast biometric account access works by scanning the vein pattern in the palm of your hand, which has actually become an even more accurate identifier than fingerprints, iris patterns or facial features. So why make the switch to Verifast?
Superior Security
Palm authentication patterns are not affected by external factors, like cuts, scrapes, dry skin or lotion. Palm authentication also makes forgery nearly impossible.
Reliable Authentication
Palm authentication provides highly precise and secure biometric recognition, allowing for near 100 percent accuracy. This is because palm vein patterns are incredibly complex, with greater than 5 million reference points! Compare that to only 10,000 reference points in your thumb.
Ultimate Convenience
Once you're registered to use Verifast, convenience is in the palm of your hand. Simply hover your hand over the palm reader for instant access to your accounts. An added bonus: Verifast is a completely contactless login, which is more hygienic.
Registering Is Easy
Simply stop by the nearest Allegacy Financial Center to register for Verifast. Then you can start waving your palm to log in at all of our Financial Centers and Interactive Teller Machines.
Learn more about Verifast and register anytime at any of our Financial Centers.