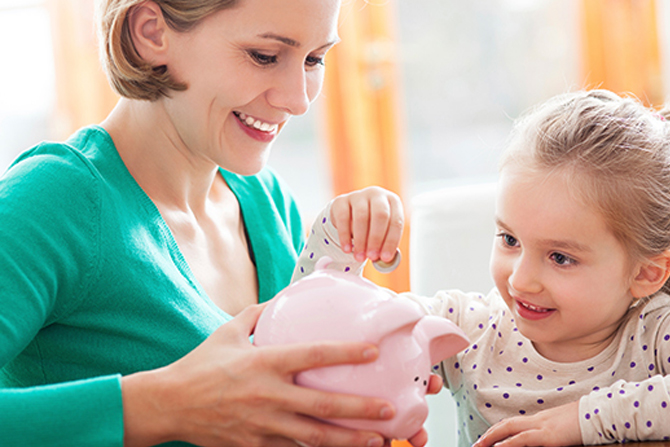 Opinions on teaching children how to save money typically equal the number of households in the country. To say there are a lot of them is an understatement. And the debate over whether kids should help fund their college education is also a hot topic.
Financial experts do tend to agree on the benefits of teaching kids to save their money. If parents start when their children are young, they benefit from learning good saving habits. And when children help to pay for their own college, the rewards increase.
The expectation is there.
How often do you talk to your child about college? For some, it's a conversation that isn't brought up until high school. But when you begin talking about and saving for college in grade school, students begin to see college as something they are going to do – not as something they may or may not do.
Students have more accountability.
When it's their hard-earned money going toward their education, the student is more likely to study hard and, as a result, get more out of the degree.
Graduation may come sooner.
If they're footing their own bill – whether through savings or working while in school – college students may step it up a bit and graduate sooner rather than join the six-year plan.
School choices may be more reasonable.
College isn't cheap, and some colleges are far more expensive than others. When students look at the price tag of their dream school, they may choose to look at more affordable options if they're spending at least some of their own savings.
If parents can afford it, they can certainly contribute to college savings. But encourage children to start saving early so they can also contribute financially to their educational future. If you'd like to discuss your options, we have financial advisors, available through CFS* ready to help! Call 336.774.3400 to make an appointment today!
*Non-deposit investment products and services are offered through CUSO Financial Services, L.P. ("CFS"), a registered broker-dealer (Member FINRA/SIPC) and SEC Registered Investment Advisor. Products offered through CFS: are not NCUA/NCUSIF or otherwise federally insured, are not guarantees or obligations of the credit union and may involve investment risk including possible loss of principal. Investment Representatives are registered through CFS. Allegacy Federal Credit Union has contracted with CFS to make non-deposit investment products and services available to credit union members. Fixed insurance products are offered through CFS Insurance & Technology Services, LLC.