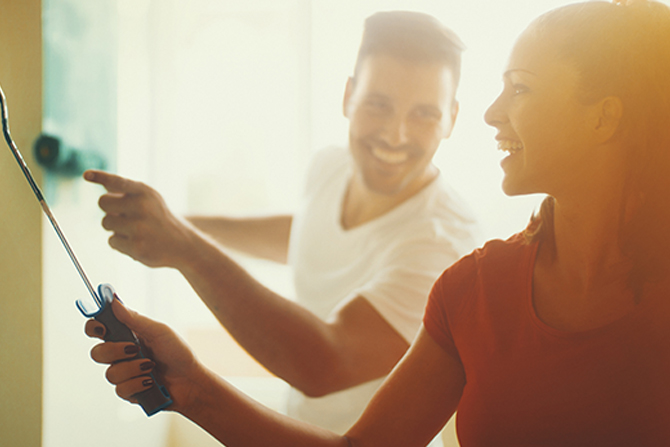 At Allegacy Federal Credit Union, we believe in doing the right thing for your wellbeing and that includes making sure that you use debt the smart way. Debt can be considered the wealth killer, but there's one very notable exception and you're living in it. Money you owe on your home is often called "good debt" and there are a few ways in which it's different than other kinds of debt. First, it's secured. That is, your ability to repay the debt is ensured by the value of the property, giving you a lower interest rate than an unsecured loan. Second, your home will likely appreciate in value so, instead of losing money, your mortgage just decreases your investment income. Third, creditors take the presence of loans, like mortgages, as signs of responsible use of credit.
Allegacy offers qualified applicants up to 100% of their available equity. What does this mean for you? Well, if you need to borrow money for any number of reasons, Allegacy can help you maximize your borrowing power. We're focused on giving the most to our members — and that includes the most equity. We have a range of options, too. Click to learn about our products that could help enable you to turn the equity in your home into a smart source of financing that can help you achieve your goals.
Here are some reasons you may need an equity line:
To purchase a vehicle and you need a lower monthly cash outflow than you would have if you obtained a car loan.
To consolidate multiple debt into one, lower-rate loan.
To move and need cash for a down payment on your next home.
To make repairs or upgrades to your home. Many home improvements increase the value of your home by more than they cost, making the investment a smart financial choice.
To finance large, one-time expenses, like a wedding
To pay for large, recurring expenses, like college tuition or medical bills
To make a deposit on assisted living quarters or for in-home care
As a safety net or emergency source of financing for the unexpected
For those approaching retirement, it is worthwhile to consider setting up an equity line now, as your earnings are usually greater than what they will be once you retire.
There are other benefits to using your equity as well. For instance, the interest on a Home Equity Line of Credit may be 100% tax deductible. To be sure, consult with your tax advisor.
Your home is your refuge, a place where you recharge and energize to be your best. We can help you make the most of it with the right equity product to fit your needs. Contact us today to get started!
All loans are subject to credit approval. Rates are based on your credit history and profile. Rates and terms are subject to change without notice.