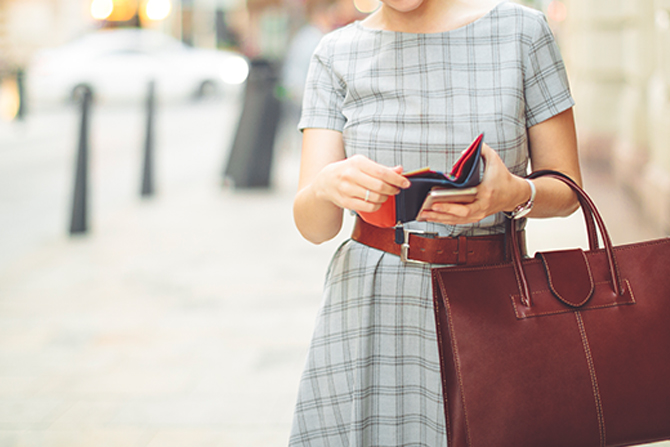 Staying balanced is essential for living a healthy life. We all know that physical activity and a well-balanced diet help your body function optimally. When it comes to our finances, we also need to ensure we maintain a healthy bottom line. On occasion, though, our expenses may temporarily outpace our bank balance. To err is human; we all have moments where we slip up and make a mistake.
In these cases, overdraft protection can assist by covering a withdrawal from your checking account that exceeds your current balance. Funds from a savings account, credit card, or line of credit are transferred to cover the deficit and prevent the transaction from being declined. Not only will overdraft protection help you save face at the checkout counter, but it can also provide a financial safety net, covering an emergency expense in a pinch.
It is a good idea to review the many overdraft offerings with an Allegacy Member Service Representative to find the best fit. You will want to fully understand the associated fees and conditions that apply to overdraft protection. And since some fees are charged on a daily or even a per transaction basis, you should rectify an overdraft situation as quickly as possible.
To help keep your account out of the red, here are a few pointers:
Keep Track of Your Transactions – Take advantage of the various financial tools, like WebBanking and the Allegacy mobile app, to keep regular tabs on your account balances and transactions. This practice could make it easier to spot a low balance or identify a transaction that has not yet posted to your account. Since so much of our spending is conducted via debit card or electronic payments, it is easy to overlook them when mentally calculating your balance.
Set up Account Alerts – Enabling email or text alerts may be a way of effortlessly staying abreast of your account activity. There is a range of notifications to choose from, including specific balance thresholds, large deposits and withdrawals, or a weekly balance update. Since most of these notifications are customizable, make adjustments according to your needs. Payment reminders are another great tool for keeping track of your bills so that you strategically schedule them to avoid overdrawing the account.
Adjust your Payment Dates – Automating your bill pay and account transfers is a smart decision. However, when multiple withdrawals occur at the same time of the month, it can be a challenge to keep the account balance positive. Invest some time in listing out all of your existing payments and their current due dates. Look for ways to spread out the payments in a more equitable fashion that aligns with your payroll calendar. Next, reach out to your lenders and service providers to request a change in the payment date. While it may take one billing cycle to implement the change, these payees will certainly work with you to make it easier for you to pay them.
Consider Posting Order – It is important to understand that not all transactions will post to your account in the order in which they were made or at the same pace. Every financial institution has a policy regarding posting order and the cutoff times for processing a deposit may vary. If you are concerned about overdrawing your account, try making an electronic transfer between accounts first as it will typically post sooner than a deposited check.
Build a Cushion – While it is not always possible, try to keep a minimum balance in your account at all times, such as $100. Consider this your cushion should some of your transactions clear before you have a chance to make a deposit. Set up a low balance alert to make sure you maintain your designated cushion.
Be an Informed Consumer – Do some research to become familiar with your financial institution's account rules and associated fees. Then explore the rich content of Enrich, Allegacy's financial education tool to learn more. If you have questions and concerns, please call an Allegacy Member Service Representative at 336.774.3400 for assistance. These proactive steps may help you maximize the benefit of overdraft protection while avoiding any unnecessary fees.