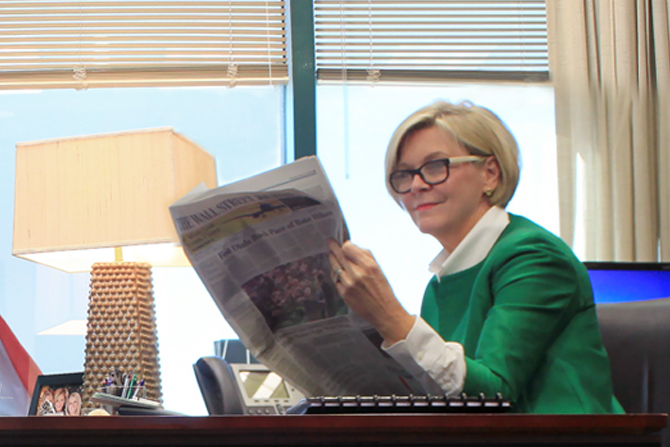 Summer Wellbeing
Summer is a time for fun, relaxation and also growth. At Allegacy, we believe that growth starts with trying new things and sharing those experiences with others so that they may feel inspired. You'll see us try new things as our celebrations continue for our 50th Anniversary and as we test new technologies for our members. More on this a little later.
How will you grow this summer? Will you read a book that you've had your eye on? Will you take a road trip to the mountains for a day of family fun? If you share these experiences on social media, please tag us so we can celebrate in your success and learn what experiences you cherish.
I believe being your best can start with a credit union membership that believes in supporting your holistic wellbeing. At Allegacy, we strive to help you take control of your finances while pursuing the personal goals that mean the most. If you've felt our commitment to you and your wellbeing in the last 50 years, I encourage you to introduce Allegacy to your friends and family. We would love the opportunity to help them be their best. We will be here, doing right, 50 years down the road and beyond.
Two great tools worth sharing on our new website are the Allegacy Difference Page or the Financial Advice Tool located halfway down the homepage. It can help you plot a path to your next goal in five questions or less! >>
These tools are easy to share and can help your friends and family start their journey to financial wellbeing.
Sharing A New Innovation
Back to how Allegacy will embrace something new this summer…
Throughout our history, Allegacy has used innovation to enhance the member experience and support you in your goals. Aspects of financial institutions that we now take for granted were once brand new offerings for the credit union and its members — Checking Accounts were new to Allegacy 25 years ago and I remember well when we introduced our first ATM machine! Some of you may still have the sunglasess we passed out all those years ago.
Continuing in that tradition, I'm proud to announce a similar advancement. We are currently testing Intelligent Teller Machines, also known as ITMs. Similar to the ATMs you are used to, these ITMs go a step further and allow you to have face-to-face interactions with an Allegacy Member Service Representative — the same local staff you have come to know when calling our main number. You may conduct your basic transactions quickly and securely. If you have questions or need assistance with a more complex transaction, simply select the "Help" menu item and begin a video conference. I am so excited to see technology facilitate human interaction!
Another benefit of the ITM is that you can conduct a transaction even if you've forgotten your ATM card. Enter a video conference and the Member Service Representative will confirm your identity and assist you.
These machines can perform routine transactions so our Financial Center staff has more time to help with other requests such as loan applications and account openings. These simple improvements increase efficiency and streamline our business operations to better serve you.
This summer you can find ITMs at our Westbrook Financial Center with Allegacy experts standing by to walk you through the features. We are excited to save you time and help you grow using this new technology!
50 Years, $50,000 Giveaway: First Drawing
Something else to look forward to this summer is the announcement of our first five winners of the mini promotion, part of our year-long 50 years $50,000 Giveaway.
Since April we have collected entries towards a major giveaway of $50,000 in 2018 and we're also rewarding you along the way. In August, we will announce the five new checking accountholders who won a subscription to Blue Apron, a fresh ingredient and recipe service!
We'll continue collecting entries — both for the $50,000 drawing and for a new mini promotion — in August, so expect to hear more from us on how you can enter the 50 Years, $50,000 Giveaway.
I hope that everyone gets an opportunity to test out the ITMs and you get lots of entries for your chance to win $50,000. But most of all, I wish you all a fun, happy and safe summer!