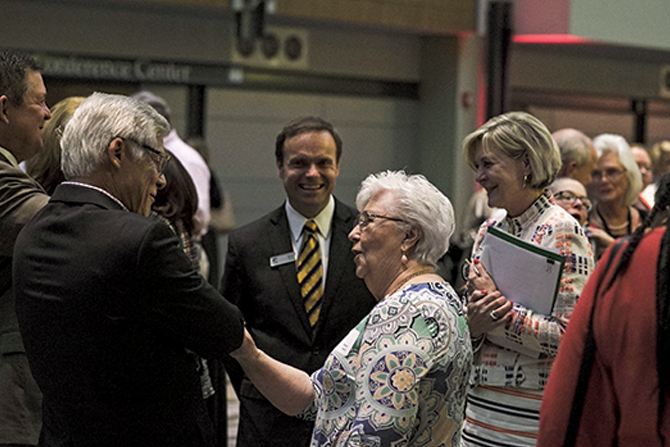 Pictured above: Former CEO Ike Keener reunites with Jean Hill, the first credit union employee. Chief Credit Risk Officer, Brian Vannoy and President + CEO, Cathy Pace, look on.
On Thursday, April 20th, nearly 400 Allegacy employees, members and honored guests gathered in downtown Winston-Salem to acknowledge the business of Annual Meeting and to kick off a yearlong celebration in honor of Allegacy's 50th Anniversary. Following a business report from Board Chair, Ann Johnston, master of ceremonies Chad Tucker ushered us into a celebration reception to honor Allegacy's past, celebrate the present and look forward to the future.
Stories were shared of the conditions that inspired the founding of a credit union 50 years ago for the employees of Reynolds Tobacco Company. Originally called Reynolds Carolina Credit Union, we were housed in a makeshift office in the R.J. Reynolds building. Several of Allegacy's most tenured employees recalled the impact that the credit union and its members have had on their lives via a special video.
"We borrowed $50,000 from Reynolds Tobacco Company to start the credit union," said Jean Hill, the first credit union employee. "I think the credit union came along at a good time and it was also great for its employees."
This video, along with an interactive timeline, can also be viewed at our Anniversary Story Page.
Cathy Pace, President and CEO, currently serving the credit union for 38 years, shared her reflections on the success of her predecessors and her own expectations for Allegacy's future. "We have so much to give to the communities we serve. Of all the things that have changed in 50 years, I am struck by one thing that hasn't: Allegacy Federal Credit Union and its employees, are here. Right Here. Looking out for you. And helping you make smart financial choices. Doing the right thing for the wellbeing of staff so that we can do the right thing for you."
To mark this milestone, Pace announced a $50,000 gift to Project Impact, a community initiative to provide additional operating funds to the Winston-Salem/Forsyth County Schools to address critical student achievement gaps and improve third-grade reading and math proficiency scores. These funds will allow for an intensive early intervention among at-risk and lower performing schools in an effort to raise proficiency in reading and math right here in our community.
"Education has traditionally been a pillar of our community involvement, and we see it as critical to the wellbeing of individuals and the communities they live in." Pace explained.
Also announced, was a major promotion to reward current and new members with deep relationships.
It seems that 2016 continued in the tradition of accomplishment and growth exhibited by each of Allegacy's 50 years.
"I love my job today as much as I did as an intern," said Pace. "I see a very bright future. The most important thing we can do going forward is making sure we understand members' needs."