Happy New Year!
We have talked a lot about growth in this space and in 2017, that will surely continue. Because in March of this year, Allegacy will celebrate its 50th anniversary. We were founded in 1967 as Reynolds Carolina Credit Union when the leaders of Reynolds Tobacco Company responded to a need for their employees. This milestone marks decades of growth – both for our credit union and for those we serve.
As Allegacy looks to honor its past, celebrate our present and — as always — look forward to our future, I have found myself filled with memories of my own first days at Allegacy. I joined an amazing group of individuals operating Reynolds Carolina Credit Union in 1978. Among them was the very first employee, Jean Hill.
Jean agreed to meet with me and several other former employees for lunch in September. We dined at the Katherine, a restaurant in the lobby of what we know to be the RJR Building, but what has become the Kimpton Cardinal Hotel. We shared memories of the way we used to do business and how the financial climate has changed. But what touched me the most were the things that haven't changed. The stories I heard from Jean and the others illustrated their deep care for our members and resonated with a very real part of who Allegacy is today. From the out-of-office trips they would take to deliver checks to the comfortable conversation and greetings with hugs. Jean mentioned that she is still occasionally recognized in the community as someone gleefully introduces her as "the lady who made me my first auto loan."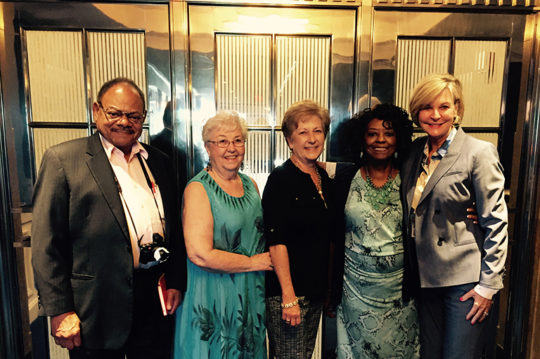 From left to right: John Williams, Jean Hill, LaNeta Jones, Julia Martin and Cathy Pace gather on the mezzanine of the RJR Plaza Building/Kimpton Cardinal Hotel — the original location of our credit union.
It was abundantly clear that our credit union began as a friendly place. As Jean puts it, "We did things from our heart."
It all started with a smart financial partner committed to helping you reach your goals and after almost 50 years, that still remains.
I'm proud to be leading this organization that still does things from the heart. In 2017 we'll donate over $250,000 in sponsorships to better our community and our employees are looking to exceed the 6000 hours they volunteered in 2016.
We'll encourage our members to earn higher dividends that reward them for the commitments they've made to their wellbeing. And we'll continue to hire talented new employees that find fulfillment in serving you, our membership.
Beginning at our Annual Meeting in April, please join me in celebrating this momentous 50th Anniversary:
Share the stories we heard from Jean Hill and the other former employees.
Launch a new website
Host reunions for members and former employees. Follow us on Facebook.
Display archived images of the transformation from Reynolds Carolina Credit Union to Allegacy Federal Credit Union. Follow us on Instagram.
Participate in community events with local Chambers of Commerce, YMCAs of Northwest North Carolina, Guilford Merchants Association, Downtown Winston-Salem, the Greensboro Swarm and many more.
Surprise our membership with giveaways.
Have fun with a sweepstakes and games.
Deliver random acts of kindness.
Offer specials on products and services.