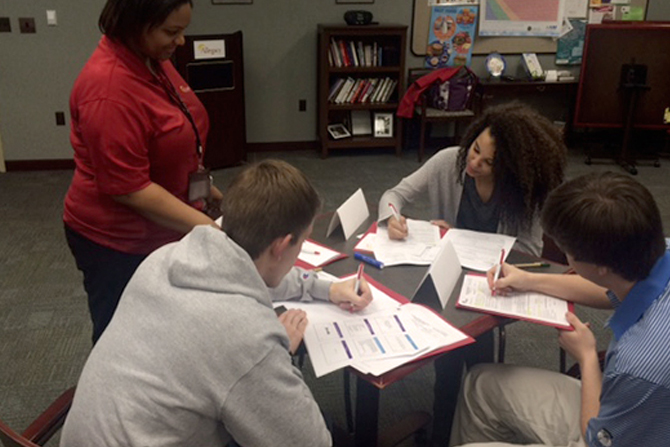 This year marks our 10th anniversary of serving our students through our Student Run Credit Union (SRCU) program.
In August of 2008, Allegacy Federal Credit Union began the first SRCU in North Carolina by partnering with Reagan High School forming the Raider Student Credit Union. Since then, we have partnered with eight other Triad schools to create on-site branches, each operated by students with a teacher liaison.
These branches allow students and teachers to learn more about membership and what it means to be an Allegacy owner. They open accounts, make deposits and withdrawals and offer products to help our members make smart financial choices. The students who work are volunteers and receive class credit for their time involved with the SRCU program. Prior to reporting to work at the branch, students attend a training session at our headquarters where Allegacy staff help assimilate the students into the Allegacy culture and give them hands-on practice with the procedures they will need to follow when they report to work.  Each SRCU is aligned with a designated Allegacy Financial Center. The students and teachers work closely with the staff of their Financial Center and our Member Development team to ensure they have the support they need to be their best.
In addition to offering students real work experience, financial education, and credit union products and services, we offer several ways to help our student members prepare for financial wellness for the next phase of their lives.
Scholarships! What better way to afford college than to have the price tag trimmed? An Allegacy scholarship can help you do just that!
Budget Planning: If you are just starting out and looking to plan ahead, Allegacy can help establish a realistic savings goal. If you already have a specific target in mind, we can guide you down the best path toward savings and the bigger prize, a diploma.
Education Loans: We also offer three loans to assist with expenses related to attending college — two Student Loans and a Computer Loan.
Be sure to visit your Student Run Credit Union or a Financial Center to learn more!