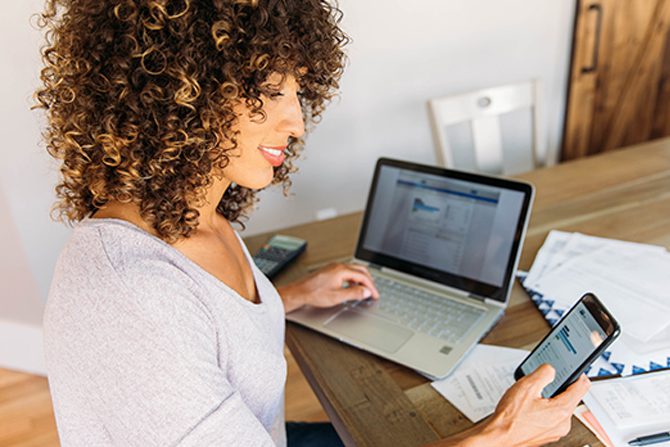 Allegacy is here for you with ways to know if you have received your stimulus check as a direct deposit. The Coronavirus Aid, Relief, and Economic Security (CARES) Act is an economic relief package to help Americans during the public health and economic impacts of COVID-19, according to the U.S. Department of the Treasury. Millions of Americans should receive the stimulus payment and if you filed taxes with direct deposit for your refund in 2018 or 2019, your stimulus payment should be direct deposited.
If you meet the government criteria for a stimulus payment, and you filed taxes with direct deposit for your refund in 2018 or 2019, your payment should be direct deposited automatically. You do not need to do anything. You can check on the status and confirm your personal information on the IRS Economic Impact Payment web page.
There are many ways check the status of your Stimulus Payment:
Allegacy WebBanking and Allegacy Mobile App
Log in to check balances, see transactions, and view deposits once they are complete.
Get email or text alerts for Large Deposits
Log in to WebBanking, go to Additional Services in the top menu, choose Alerts & Notifications and sign up for multiple alerts. Choose 'Large Deposit' alert.
Our WebBanking and Mobile app services are free and easy to use. Register to starting connecting 24/7 today at allegacy2022v1.kinsta.cloud/digital-services or allegacy2022v1.kinsta.cloud/mobile-banking
Allegacy Phone Banking
Automated phone banking allows you to hear balances, transactions and completed deposits without having to wait to speak with a representative. Our Contact Center is experiencing high call volumes.
To use automated phone banking, call 336.774.3400, press 1 after the voice prompt and enter your member number when prompted.
For the smaller amounts of the population that do not use direct deposit with tax filing, you would receive a check and can use mobile check deposit or deposit via an Allegacy Interactive Teller Machine (ITM), ATM or drive-thru service at our Financial Centers during business hours.
For assistance from an Allegacy Member Service Representative:
Use the Live Chat feature in the top menu at Allegacy.org
Call our Contact Center at 336.774.3400, but please be patient as call volumes are high during this time period.
The "Get My Payment" Tool
Lastly, we've seen news about the IRS launching a "Get My Payment" tool on Friday, April 17th.
The U.S. Treasury Department and the IRS announced that a new tool will be available on the IRS Economic Impact Payment Web page on Friday, April 17. The Web application will be called "Get My Payment" and will serve several important functions:
If you have not received your stimulus payment yet, it allows you to check the status of yours, so you'll know approximately when it will reach your bank account or be mailed.
If you filed tax returns in 2018 and/or 2019 and did not provide your direct deposit information — meaning that you either chose to receive your tax refund as a check, or didn't get a refund at all — you'll be able to share this information with the IRS if you choose to do so.
If your payment hasn't been issued yet, you can confirm whether you want to receive it by direct deposit or check. (Note: Direct deposit will be much faster.)